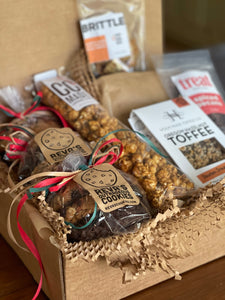 This is the ultimate gift to send to an office or family because it is filled with the best of the best!  There is something for everyone! There will be smiles all around when this fabulous gift is opened!
This large gift box will include 16 assorted Reva's Outrageous Cookies! 
1  package of CCMade Artisanal popcorn
1 package of hand made Boomerang Bites (delicious assorted sweet bites packed with flavor and wholesome goodness)
1 package of hand dipped chocolate covered pretzels
1 package of Artisanal Spiced  Pecans
This is the perfect way to wish anyone a very Happy Holiday!